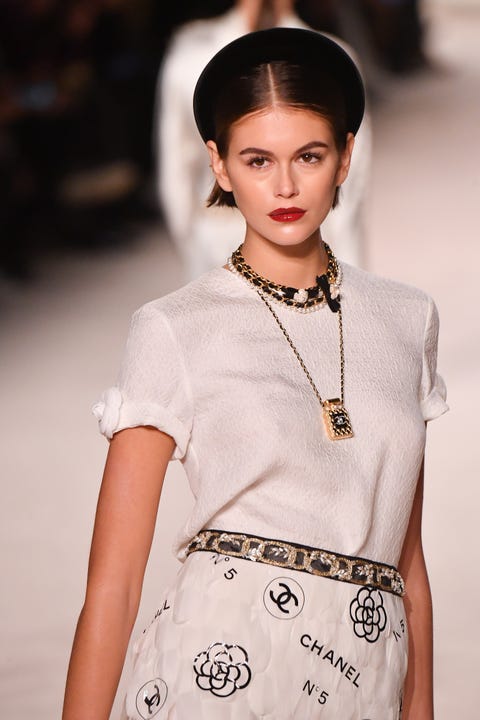 Stephane Cardinale – CorbisGetty Images
As a society, we tend to look at fashion through rose-colored, obnoxiously tiny sunglasses. The accessibility of Instagram influencers wearing the latest runway garbs and the immediacy of fast fashion makes us consume trends faster than ever. We participate before common sense kicks in. We line up to buy questionable it-sneakers, fawn over impractical bags, and blindly wear things purely for grid-worthy flexes, only to cringe in the months that follow. Rarely do we think "will I regret this in ten years?"
The affirmative answer shouldn't stop you from experimenting, because that's the fun part of part fashion. We are proudly the Felt Cute Might Delete Later generation. Today's OOTD selfies are just tomorrow's TBTs, but there's one inescapable accessory trend that just won't quit. We seemingly reached max capacity and yet, padded headbands refuse to die.
The world was first exposed to the puffy toppers at Prada's spring 2019 runway. As soon as the runway started, editors knew that we were witnessing the birth of a trend. That summer, Prada headbands were selling out everywhere, and similar styles spread like wildfire. We've seen padded headbands in every iteration: cut in velvet, dolled up in gems, and in heights so tall we question gravity itself.
Unlike the craze around Ashley Williams crystal barrettes or other short-lived trends, padded headbands did not complete the predictable trajectory of buzzy fashion moments, detailed below.
Step 1: Runway premiere
Step: Trickle-down efftect: you can buy it at any fast fashion vendor
Step 3: Your mom gets into it
Step 4: Fini.
Prada's show premiered in September 2018, which in fashion years is approximately seven decades. By now it should be dying a slow, painful death, and yet it only grows stronger. Just when we thought it peaked, Chanel showcased their Metiers de Arts runway, ripe with Gigi Hadid, a Sofia Coppola designed set, and the decaying headband trend. So it lives on.
The thing is, I get their appeal. I tried them on and I instantly felt like a regal widow. The millions of pictures I took standing in a Zara wearing a bloated beaded snake on my head would look good on my grid. I understand how padded headbands make you feel, but as my therapist constantly reminds me: feelings are not facts. I have to dig deep and find the mental fortitude to remove them, physically and psychologically, from my life. It's a struggle that maybe speaks more to my complicated relationship with giving in to a popular trend. Am I just an hypocrite bringing something down in order to lift myself up?
Nah. Like, I get it: wearing crowns are super fun. As a blind supporter of Grandpa Slacks and infantilizing myself in baby dresses, I understand the fleeting and fun nature of style fads. There's a caveat, though: it should feel natural to the wearer, and padded headbands rarely look "chill." Ballgowns have more chill than them. Or maybe it's a me thing. (It's not. I asked approximately four people and they did not approve, too.) I have an aversion for things that literally give me headaches, I struggle with the fact that it's a glorified Bumpit, and I'm the uncomfortable with the association with Tudor headdresses, and we all know what happened to Anne Boleyn. I'm obviously in the minority though, since the trend is taking off with or without me. I want you to be happy with your hair accessory choices. I'm just going to opt out of this one.
But… you know how I know without a shred of doubt that there's something inherently wrong about padded headbands? Rihanna has never wore one. Thank you for coming to me TED talk.